Wednesday, November 30, 2011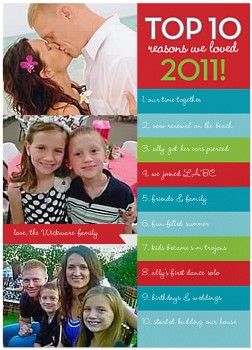 Top 10 Reasons Christmas Card

Sunday, November 13, 2011
Well, we survived another dance competition weekend. My lil Diva did great! She is on the competition team this year instead of doing a solo and she's loving it. We took the girls to Dance Masters of America in Pampa, TX this weekend. After a crazy, stressful, busy, fantic time leading up to it, the actual performance time was about 2 minutes. I was holding my breath every second of it, lol. Afterward was watching more performances, receiving medals and then classes the next day. Then home again. It was a whirlwind weekend to say the least. I am very proud of my sweet girl. She worked her hardest, did her best, handled everything very maturely and remained gracious, polite, and respectful through it all. I am a proud dance mom for sure!




Saturday, November 5, 2011
Celebrated the birthday of my best friend of 11 years last night. It seems surreal that we could be who & where we are now. Looking back makes me feel old but accomplished. I think of us impulsive, naive college girls and how much has filled our lives over the years. Sometimes it's nice to just pretend we're still those two young crazy girls. Sometimes it's nice to just hang with someone who makes you laugh so hard your stomach hurts the next day. I need my girlfriends like I need air to breathe. Time with them is necessary for my sanity. I'm so lucky to have a husband who understands that. Though I feel like I fail them more than I wish, I'm so very thankful to have so many significant people in my life.